LAMP DIMMERS DIM-50 – DC LAMP DIMMER (50 WATTS)
The DIM-50 is a cost effective and reliable method of safely controlling the intensity of DC Lamps. This popular module is widely used by in marine control panels to dim the intensity of pilot lights in the wheelhouse / bridge.
More than 15,000 sold!
FEATURES
Input Voltage: 12 to 28 VDC
Output Rating: 50 Watts
Output Voltage: Regulated
Drives up to 50 incandescent bulbs or 125 LED
APPLICATIONS
Dimming of Indicator Lights on Marine Control Panels (used in the wheelhouse / bridge area)
Map/Chart reading lamp
SPECIFICATIONS
Model
DIM-50(NEG)
DIM-50(POS)
Description:
Negative Type Lamp Dimmer
Positive Type Lamp Dimmer
 Supply Voltage (Vsupply):
12 to 28 VDC
Output Voltage Range: 
1 to (Vsupply – 4) Volts
3 to (Vsupply – 3) Volts
 Output Current (at 24 VDC)
2.5 Amps (Max)
Output Rating: 
50 Watts @ 24 VDC
Intended Load:
DC Indicator Incandescent or LED Bulbs / DC Motor
 Control Potentiometer Value:
5 k-ohm
 Protection:
Fused
 Operating Temperature:
  -20 to 50 degC
Dimensions:
W51 x D89 x H25 mm
Weight:
100 g
Warranty:
1 Year
CONNECTION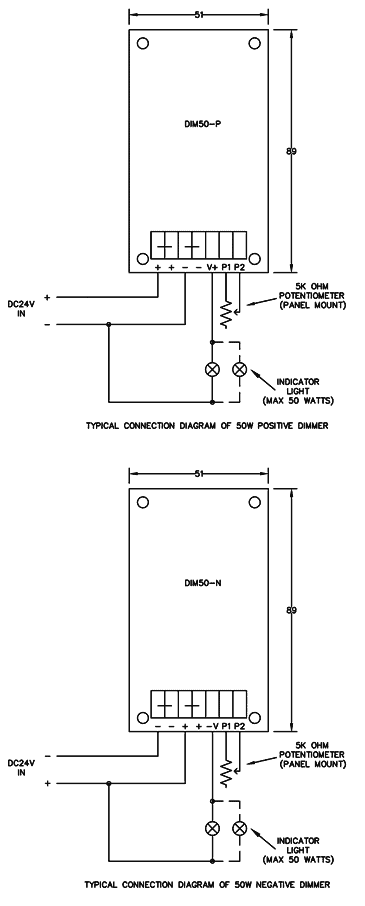 ORDERING INFORMATION (PART NUMBERS)
DIM-50(NEG) – Negative Type Dimmer
DIM-50(NEG/PK) – Negative Type Dimmer with 5k potentiometer
DIM-50(POS) – Positive Type Dimmer
DIM-50(POS/PK) – Positive Type Dimmer with 5k potentiometer